Here at California Tactical Academy we see a good number of our students coming through our classes to become more proficient with their concealed carry weapon. A very prudent endeavor if one has taken on the responsibility of owning or carrying a firearm for their safety. But, deploying a firearm for self-defense, particularly in a public venue, comes with many risks beyond the actual engagement and possible civil or criminal processes that might follow a shooting.
In our advanced classes, and our tactics classes, we stress the importance of looking for additional threats before holstering. At the end of the gun fight or shooting, holstering is the last thing we want to do. We will holster the gun but it is the final step. Holstering your firearm before the gun fight or shooting is over is imprudent and exposes us to additional dangers. So, until we are sure the shooting part of the fight is done, we keep the gun ready.
There are some problems with this philosophy that can arise. First of all, when police respond, if we are still out of the holster, we run the risk of finding ourselves at gun point from the cops. As long as we are prepared for this, and have an idea of how we want to respond to police commands, then this risk is manageable. It is still a dangerous situation, but it is not insurmountable.
Consider this scenario. You are at a crowded shopping venue. An active killer/shooter event breaks out within feet of you. You decide, for whatever reason, to intercede and engage the active killer. Great, your shooting practice has paid off and the bad guy is down. As you stand over them, gun drawn, another concealed carrier runs to the sound of the gunfire and sees you standing over a body, maybe a wounded, but alive person, with your gun drawn. Thinking that any challenge or hesitation on their part could result in your finishing the job, and reasonably, suspecting you were the active shooter, they engage you. Now you run the risk of either being shot, or engaged in a gun battle with another "good guy".
If you choose to act in a public venue, whether to protect yourself, your family, or strangers, you must consider this possibility. The police response will be the least of your worries. Cops are trained and have practiced how to respond to such scenes. The average concealed carry individual has not. They will be highly stimulated and very dangerous. Not by intention, but simply as a result of the events. It is easy to say, "the likelihood of two concealed carriers being in the same place is slim." This might be true but to count on this, without consideration of the possibility is too dangerous to risk. Better to consider the possibility and come prepared with some solutions.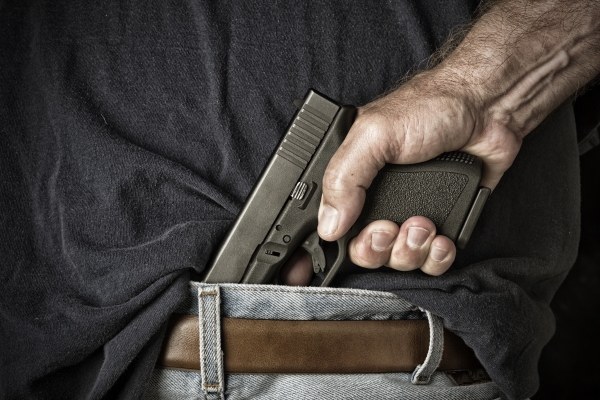 One solution is simply don't engage. Flee, evade, or take some other measure to get away from the scene and danger. For many people, this is a reasonable solution. They will, perhaps properly, conclude that unless they, or their immediate family, are in danger, they will leave. Anyone else exposed to the danger will be on their own. This is not a wrong choice. It is a value/morals-based choice and, while it is not in my nature, one I will not criticize.
Another option is to engage the threat, and once they are down, immediately holster and leave the area to a place of safety with your family. Once there you can notify law enforcement and make arrangements to meet Officers in a safe zone. This option has strong merits but requires you to act quickly and to leave the suspect. That might result in a wounded suspect re-engaging citizens. It will also open the good guy to criticisms that they did not provide first aid or do anything else after shooting the suspect. Thus, reinforcing the notion that you only wanted to use your gun. While this might not be much concern in a large scale, active shooter event, it could be a significant concern in a self defense scenario where you have engaged a threat that later proves to be marginal. Such as a person armed with a non-conventional weapon.
Another option, terrain permitting, is to find a place that allows you to cover the downed threat, while providing some tactical advantage to allow you to see approaching people and respond accordingly.
Whatever you decide, it is important to consider these possibilities and have a plan, before the incident unfolds. You are not likely to have the frame of mind to come up with something on the spot.
For more thought-provoking training, come on out to California Tactical Academy. Take a class or just practice your skills.
We'll see you at the range.
About the writer
Mike Lazarus
Military and Law Enforcement Veteran
FBI certified firearm instructor
MP5 and Sub Machine gun instructor
Defensive tactics instructor