At Our Public Range, We Offer A Unique Experience And Sets Of Targets Ranging From 50 To 1000 Yards. For A $20 Daily Admission Cost Per Shooter, You Can Shoot At Our Rifle, Rimfire, Pistol, And Shotgun Ranges.
California Tactical Academy Public Shooting Range is currently open Wednesday – Sunday from 8 AM to 5 PM. Our Public Range has become a favorite for everyone from those that never fired a round to top competitive professionals in the area.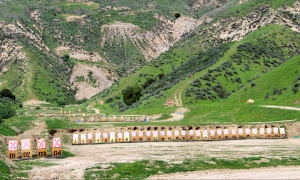 Public range access $20 per day, per shooter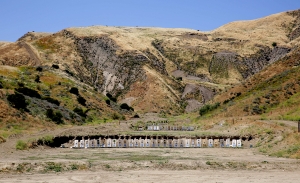 Buy 12 passes for $200.00. Save $40.00!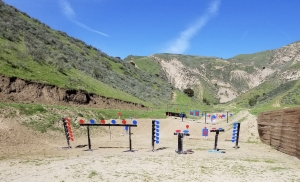 Buy 20 passes for $300. Save $100!
Public Range General Information:
With your paid range fee, you may use all of the ranges for as long as the range remains open the day of your visit. You also get one target board of your choice. This means that you can choose a rifle range target board at 50 yards OR a rifle range target at 100, 200, 300, 400 or 500 yards. Please remember it's OR, NOT AND. If you wish to shoot paper targets at multiple yard ranges or at the pistol range, each additional target board will cost an additional $5.00. This includes the pistol range as well. Steel targets at all ranges and yardages are included with your range fee so feel free to shoot at any steel target at any range you wish.
Here's how it works.
When you arrive at our range, the first stop will be at the sign-up window located up the stairs from the parking area. Here you will sign-in and pay your range fee. For the veterans at our range, this is just routine, and the next step for them is to be assigned their shooting bench, and that's it. For those of you new to our range, PLEASE let us know this is your first visit. In this case, we require you to undergo a brief orientation of our range where you will learn:
Range safety and firearm handling.
What you get with your range fee.
What other options are available.
What you can and cannot shoot at.
Rules between rifle, pistol and shotgun ranges.
Target distances.
Services available i.e. bathroom, pro-shop sales, etc.
During that time, it's right for new shooters to ask any questions or address any concerns. From the roads and the general scenery to the way we present and operate our range, we are working every day to make it bigger, better and more user-friendly. To date, we have added many new targets, a tactical shotgun area, rimfire range and more. We have implemented an hourly cease-fire so shooters can evaluate, post repair or remove their targets. Our pro-shop is now packed with ammunition and other shooting supplies, payment options to pay for your range fees and other purchases. The list goes on and so does the work to add more shooter friendly services and improve the existing ones. The range staff is dedicated to your safety and the safety of everyone visiting the range. All RSO's rules must be respected at all times and their directions and decisions honored, for your safety and the safety of the range. The Range Master is the ultimate authority on the range having complete control over the entire range. In case you have seen unsafe activity please assist us by reporting it to our staff at the range. Your safety is our concern!
Public Range Features
The shotgun range is located next to the pistol range and it is designed for "tactical" type shotguns though has been used for hunting shotguns as well.
On our rifle range, we offer paper targets starting at 50 yards and all the way out to 500 yards. Come test your skills! Steel targets are set from 100 yards to 1000 yards.
Our pistol range target distances range from 5 yards to 25 yards for paper targets and 20 ~ 100 yards for steel targets. Rifles chambered in pistol charges are welcome to shoot at the pistol range. Kids plinking with .22's has become very popular on our pistol range as it gives them a chance to shoot at shorter ranges and can see their bullet strikes on the steel targets.
Come enjoy our brand new 100-yard Rimfire range! Don't have a rimfire firearm? Rent one or buy a new one at our pro shop!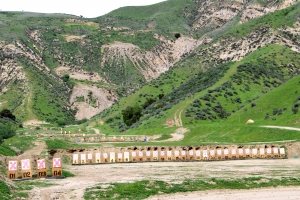 ALL Minors Must Be Accompanied by a PARENT or GUARDIAN.
The following people are NOT allowed to sign a waiver for a Minor:
Friends, Grandparents, Siblings (brother or sister), Aunts, Uncles, Parents of other participating Minors.
Public Shooting Range FAQ's